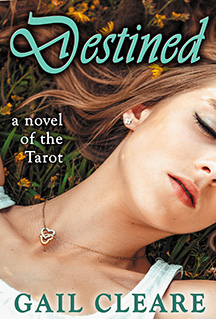 Destined
a Novel of the Tarot
by Gail Cleare
Now in Paperback and E-Book at
Finalist at the Green Book Festival, the New England Book Festival, and the Somerset Awards

IS YOUR LIFE DESTINED?
This is the year Emily Ross learns to deliberately shape the future. She gets the courage to walk away from her routine and takes a job at a fabulous curio shop owned by Henry Paradis, an occult scholar. Recognizing her intuitive talents as the valuable gifts they are, Henry teaches Emily to accept her magical nature and "look forward."
She chooses the path to light and happiness, opening her heart to brave its inevitable obstacles. Emily finds lifelong friends, falls in love, learns the power of desire and intention, faces her worst fears and is swept toward awakening.
The mystical images of the Tarot's archetypal trump cards chart the way, 22 sequential steps along the path to success known as "The Fool's Journey." Over the course of a year in her life, Emily's journey is completed.
The chapters are illustrated by images from the Payen Tarot of Marseilles (1713), the oldest surviving Tarot deck.
Click below to read the first chapter from DESTINED:
(There is also a longer free sample at the Amazon.com listing page.)
---